Description
Purchase YouTube Ranking Master Class – David J Woodbury - Course at eBokly. We actively participate in group buys and are committed to sharing knowledge with a wider audience. What's more, our courses maintain the same quality as the original sale page. You have the option to buy directly from the sale page at the full price (sale page link is provided within the post).
YouTube Ranking Master Class
How To REALLY Get Views and Make Money On YouTube With No FLUFF!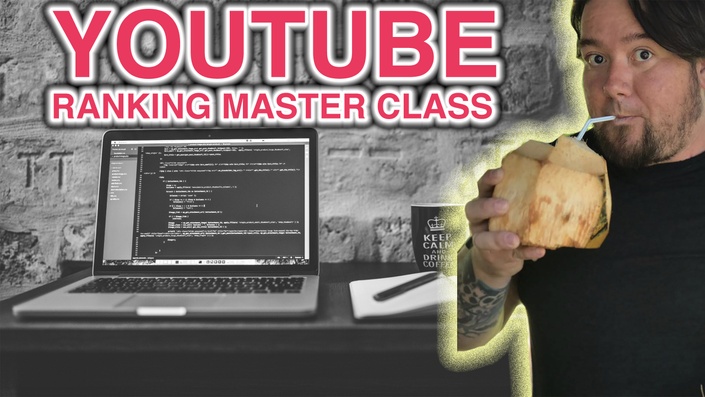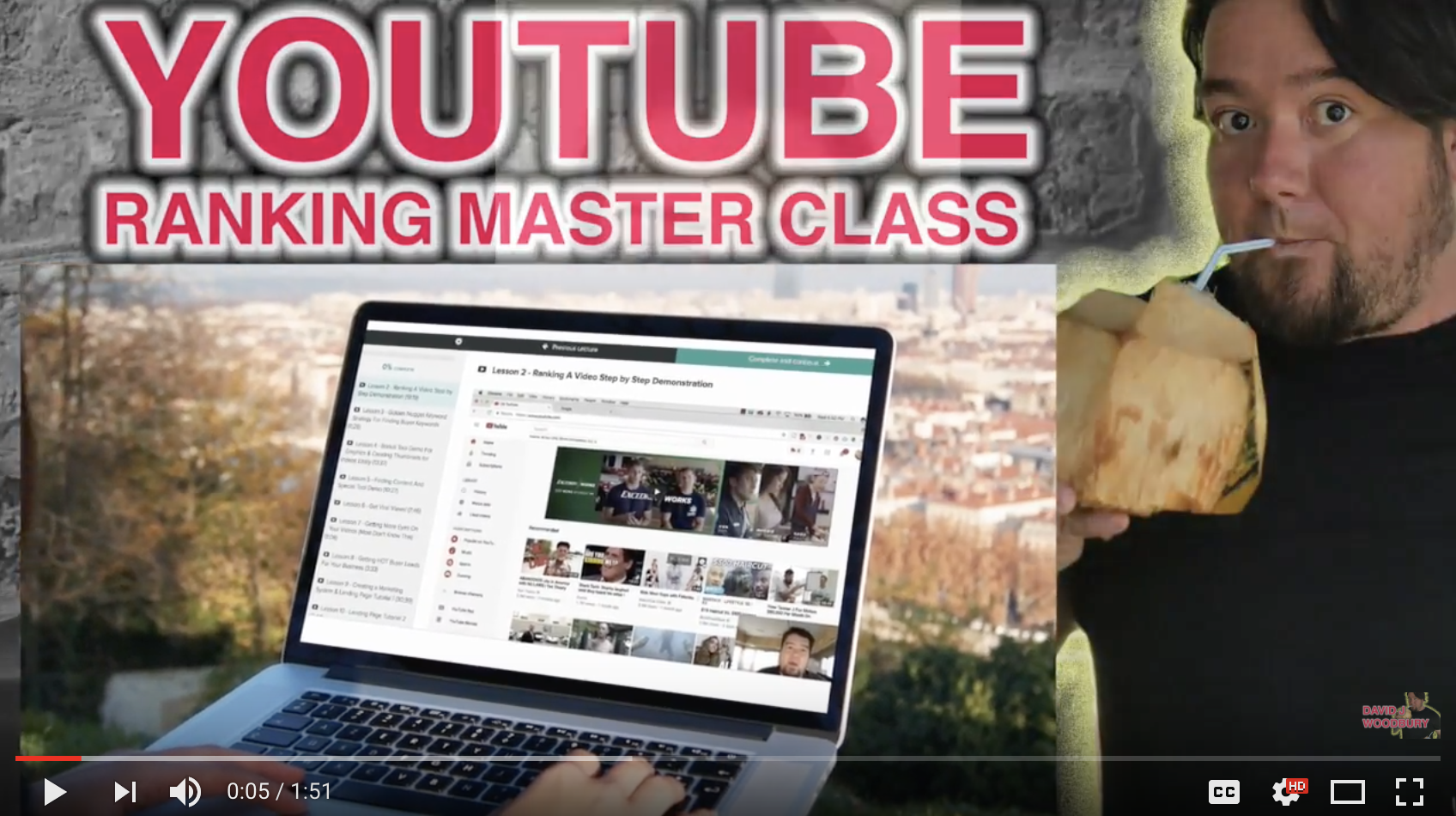 NOW LIVE!
FREE ACCESS TO MY TAI LOPEZ CASHFLOW VIDEO SERIES!
LEARN HOW I HAVE CONSISTENTLY MADE 6 FIGURES AND AS MUCH AS
$47,000.00 IN ONE MONTH PROMOTING TAI LOPEZ SINCE 2015!
In this video series I will show you how it all started, what worked then, what works now and my simple traffic booster methods you NEED to get free traffic and views to your videos and links!
Most affiliates never think of this or do it!
Your Instructor
David Justin Woodbury has built a successful 6 figure business in Affiliate Marketing since 2014 and continues to rank as a top marketer for companies like Clickbank & Tai Lopez – Knowledge Society
David continues to teach others through his popular online course "YouTube Ranking Masterclass" – as well as being featured in online courses released by Tai Lopez – "Social Media Marketing Agency" , "How I Make Money Online" and the Knowledge Society Platform which aims at helping new entrepreneurs gain the knowledge necessary to build and run a successful business.
David founded Alternative Entrepreneur in May 2018. The brand is dedicated to every entrepreneur that pushes for success when other say it cannot be done.
"Alternative Entrepreneur is a like minded community, a movement for entrepreneurs striving for success when others say we cannot do it! We aim to share knowledge and value for those that want to build something better in life and to get time freedom to do what we love and live life to it's fullest. We are the different ones, we know what we want and we ignore the ones that say it's not possible, we hustle, we work hard, we never give up. We make our dreams a reality.
WE ARE ALTERNATIVE ENTREPRENEURS!". ~ David J Woodbury
My Name is David Justin Woodbury and I've been internet marketing full time since 2014. I wanted to create the freedom I never had before by cutting the ties of a regular 9 to 5 job and make time for living life on my own terms! I've had a lot of ups and downs in this industry and have learned a lot of important lessons on what to do and what not to do. As most of the people know there is a lot of money to be lost and a lot of money to be made with an online business! I hope to help you with any questions that you may have to get your business going in the right direction so you can spend more time on the important things in life instead of worrying about a paycheck!
Has someone ever told you that you weren't going to succeed unless you work a normal job? Have you ever felt like they were right? Have you always thought differently than others? Like there was something more to life? I want you to know that you can be different and you will succeed at whatever you want to do! If you want to travel the world, spend more time with friends or family then you can make that happen! You don't need to give in to the pressures of everyone telling you you're not going to go anywhere unless you "Get a normal Job"… There is so much more to life than being "Stuck"… Isn't it backwards when you can say you spend more time with your co-workers then with your own family? .. This isn't how it's supposed to be.. At all..
You can make a difference and you CAN join a group of like-minded people that want nothing more than to live life to its fullest and live the life you want, however you want, wherever you want!
I hope you can make the decision to change your life for the better and join us on this incredible journey living life to its fullest!
Remember, If you're not willing to take risks to build your own future, you'll end up working your whole life for someone else that does.
David J Woodbury
Get YouTube Ranking Master Class – David J Woodbury, Only Price $75
Course Curriculum
The Complete Guide To Ranking Videos And Building A Business With YouTube
Intro – What this course is not (4:42)
Lesson 1 – Ways To Make Money With Youtube (21:03)
Lesson 2 – Ranking A Video Step by Step Demonstration (19:19)
Lesson 3 – Golden Nugget Keyword Strategy For Finding Buyer Keywords (11:26)
Lesson 4 – Bonus Tool Demo For Graphics & Creating Thumbnails for Videos Easily (13:37)
Lesson 5 – Finding Content And Special Tool Demo (10:27)
Lesson 6 – Get Viral Views! (7:46)
Lesson 7 – Getting More Eyes On Your Videos (Most Don't Know This) (11:08)
Lesson 8 – Getting HOT Buyer Leads For Your Business (3:33)
Lesson 9 – Creating a Marketing System & Landing Page Tutorial 1 (30:39)
Lesson 10 – Landing Page Tutorial 2 (9:44)
Lesson 11 – Domains VS Link Shorteners and Why This Is Important (7:44)
Lesson 12 – How To Get Instant Traffic To Any Link Without Any Work (8:34)
Thank You And Good Luck! (3:19)
Updates
Great Source To Find Trending Content For Videos (1:45)
A Must Have FREE Keyword Research Tool (5:46)
How To Brand Your Videos To Protect You And Earn You More (8:28)
The Micro Channel Strategy (32:47)
One Big No No On YouTube (0:58)
Submitting Videos To Search Bots To Speed Up Ranking (1:48)
Smart Video Tag Generator (5:38)
Automating Expired Domain Search And Research Strategy (12:05)
Live Case Study (Getting Viral Views) (6:47)
Money Video Funnel Part 1 (10:34)
Money Video Funnel Part 2 (7:37)
Fixing Blocked URL/Link Issues With Forwarding (20:54)
Automated Strategy To Share Your Content For More Views, Leads and Sales (33:00)
Finding Products and Setting Up Offers (48:18)
Streaming Live On YouTube (11:08)
HOW TO GET INSTAGRAM FOLLOWERS FAST (18:46)
PLR Reselling (8:59)
Best Platform To Start Getting Quick Leads and Sales (16:08)
Copyright Free Video and Audio Tool – Create Pro Level Videos Easy! (11:51)
YouTube Ads 101 (28:01)
Get YouTube Ranking Master Class – David J Woodbury, Only Price $75
---
Tag: YouTube Ranking Master Class – David J Woodbury Review. YouTube Ranking Master Class – David J Woodbury download. YouTube Ranking Master Class – David J Woodbury discount.
---
Purchase the YouTube Ranking Master Class – David J Woodbury - course at the best price at eBokly. Upon completing your purchase, you will gain access to the downloads page. where you can conveniently retrieve all associated course files. Additionally, we will send you a download notification email to your registered mail.
Unlock your full potential with our YouTube Ranking Master Class – David J Woodbury - courses. Our courses are meticulously designed to empower you with the skills and knowledge needed for excellence.
Why wait? Take the first step towards greatness by acquiring our YouTube Ranking Master Class – David J Woodbury - courses today. We ensure a smooth and secure purchasing experience that guarantees your peace of mind. Rest assured that your financial information is safeguarded through our trusted payment gateways, Stripe and PayPal.
Stripe, renowned for its robust security measures, offers a secure and dependable payment process. Your sensitive data is encrypted using state-of-the-art technology, ensuring its confidentiality throughout the transaction.
PayPal, a globally recognized payment platform, adds an extra layer of security. With its buyer protection program, you can make your purchase with confidence, knowing that your financial details are protected, allowing you to focus on your learning journey.
Is it secure? to Use of?
How Will the Course Be Delivered?
What Shipping Methods Are Available?
How Do I Track Order?
We promptly update the status of your order following your payment. If, after 7 days, there is no download link provided, the system will automatically process a refund..
We love to hear from you. Please don't hesitate to email us with any comments, questions and suggestions.